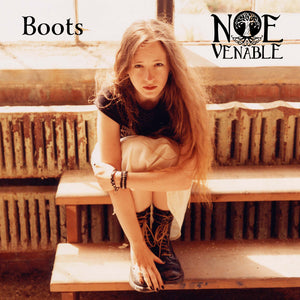 Get swept away by Noe's debut album -12 songs of whimsy and longing.  With its intricate, acoustic-meets-electronic arrangements and imagistic lyrics, this album is a listener favorite.
Boots was released in 2000, and was produced by Todd Sickafoose (bassist for Ani DiFranco) on an extremely simple home setup - the modern equivalent of an eight track recorder.  But you'd never guess it from the sound.
What they said:
"Here we have a home grown, full blown musical visionary, and an insight into a part of the new San Francisco sound.  This train is headed somewhere."  --Puremusic.com
"Only a couple of records lately have pulled me from song to song to the end; one was Van Morrison's Down the Road and the other was Noe Venable's Boots."  --LA Weekly
Track List:
1. Boots
2. Prettiness
3. Tinkerbell
4. Stolen Thing
5. My Insomnia
6. Climb
7. Happiness
8. Look, Luck
9. Julia
10. Wild, Blue and Yonder
11. Don't Stop Crying
12. In Memoriam
Musicians Include:
Noe Venable— voices, acoustic guitars, mandolin
Todd Sickafoose— Bass, keyboards, loops, programming
Alan Lin— violin
Scott Amendola— drums
Adam Levy— electric guitar
Rob Burger— organs, keys and Indian banjo

Also available as a physical CD, here.
Preview it here: