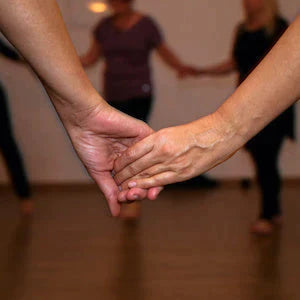 Please Note:  This option is just for people who are new to Mothersong, and would like to try a single meeting for free.  If you are a returning Mothersong member who's ready to join us for the full season, you'll want this listing, here.
COME SING WITH US!
Uncover your voice in supportive community with Mothersong Chorus.  Join us for our weekly meetings, and find out how good it feels to let go and SING!

No prior singing experience required - we welcome singers at all levels of confidence and ability (including those just starting out!)
This registration option is for a free trial of our weekly singing group, which meets Tuesday evenings, 6 - 730 PM from September - January. 
Mothersong meets in two cohorts, Thursday evenings in San Francisco and Tuesdays in Pacifica.
This listing is for our Thursday San Francisco cohort.  If you prefer to try the group in Pacifica on Tuesdays, you'll want this listing here.
Ready to register for your free trial?  Here's what you need to know:


WHEN:  Choose between Thursday 9/7 or 9/14, 6 - 7:30 PM.

WHERE:  We meet at Golden Bridges School in San Francisco. 

After your trial, if you decide to continue with the group, you can continue with either cohort, provided there is room.

Please note that for reasons of COVID safety, the group will be kept intentionally small, with registration on a first come / first serve basis. If you do want to commit to the season, it's a good idea to register as soon as you know, to increase the likelihood that there will be a spot open.


HOW TO JOIN US:

After purchasing this listing, you'll receive the complete info for how to join us in the form of a downloadable pdf document.

Here's how to access it:

On the last page of the checkout process, you should see a link to "access your digital downloads."

Click that link, and the document should start downloading.

In that document, you'll find all the info you need to join us.

If you miss that download link in the checkout process, don't worry - it will also be sent to you via email.  (If you don't see it in your primary inbox, check your spam folder and any other folders to which messages can get diverted.)

Any questions, don't hesitate to reach out to me at noevenable@gmail.com.

We look forward to seeing you at your free trial of Mothersong Chorus!